Bed velcro OTHER MEASURES
45cm

50 CM

55 cm

60cm

40cm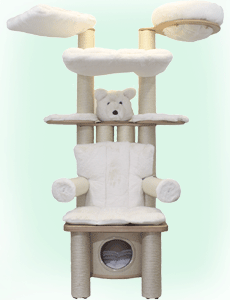 thrones for me and cats

Data protection

Shipping

Cancellation
You have a cat tree from another manufacturer? The pillows are already broken or of inferior quality?
Here we have textiles for your cat tree in the highest quality and the dimensions of other cat tree brands.
Our cuddly soft beds and covers are made in our own sewing and offer comfort and highest functionality.
This bed has a velcro floor
Washable at 60 ° C
Dryer suitable
please do not use fabric softener with Microfiber
The specified dimensions are the floor dimensions of the bed or the size of the plate on which it will be attached.
We also make to measure! Please contact us!
WARNING! These textiles are not all suitable for our KATZEN-DEKO trees. You can find spare parts for your KATZEN-DEKO tree here: https://www.katzen-deko.com/en/11-scratching-post-parts